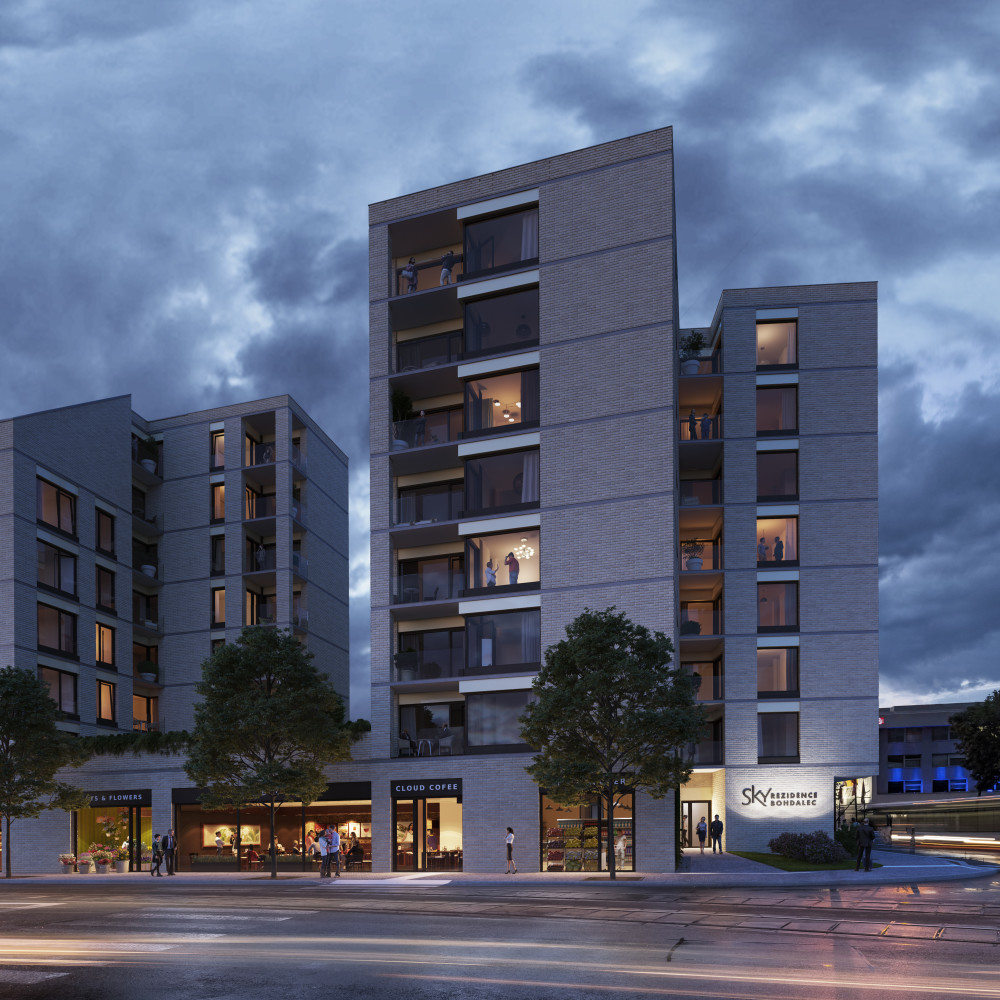 In line of Sky House
"For life in movement"– motto of our project, which reacts to a housing style sought-after by people who love urban living, are active, both in their employment or business, and also in their free time; simply always living in a movement. Hence the dynamic character of the housing that corresponds to it. We offer you this housing on the corner of the streets Bohdalecká and U Plynárny.
ELABORATED DISPOSITIONS IN IDEAL AREA
One-bedroom apartments (2 + kk) are currently the most sought-after apartments in the market. In our project, this category presents a significant part of the housing units. You can find our wide range of various elaborated dispositions mostly in the ideal area of 50 to 60 m2. Units located on the second above-ground storey have yards, while other housing units have always a loggia, balcony or a terrace. In addition to a housing unit, it is possible to buy also a cellar or a parking place. The advantage of the units´ composition is that four above-ground storeys (3rd to 6th) have the same dispositions, which means that if you do not find your dream apartment in one storey, you still have other options. In the wide range of areas and dispositions, there are also very popular studios (1 + kk) and three two-bedroom apartments (3 + kk) in the highest storeys with beautiful panoramic views. These are also available to some other units in lower storeys, from Zahradní Město to the greenery around the Hamer pond. With all the various possibilities of the available apartments in our project Sky Residence Bohdalec, we offer you an unusual range of varieties of how to create, in the selected area in our elaborated dispositions, a truly original and pleasant environment of your new home.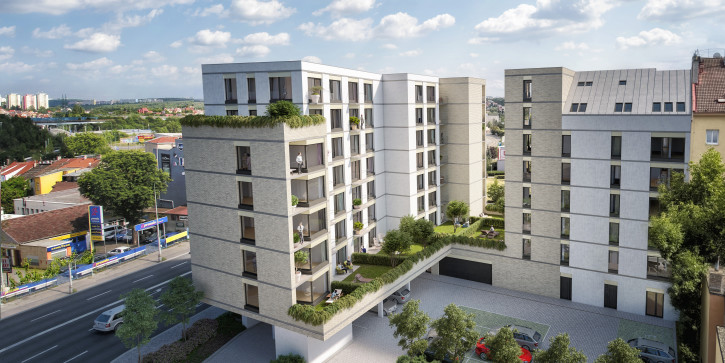 MODERN CONCEPT OF RESIDENTIAL HOUSING
Architectonic solution, by Ing. arch. Miroslava Tylšová and by Ing. arch. Vojtěch Taraba from the architectonic studio APRIS 3MP, is inspired by a composition of a typical Prague block of buildings in residential locations such as Vinohrady, Žižkov or nearby Vršovice. The modern complex supplements the neighbouring housing development and responds to the operation in the nearby streets, considering its inner courtyard with a relax zone with balconies, terraces and various intimate corners.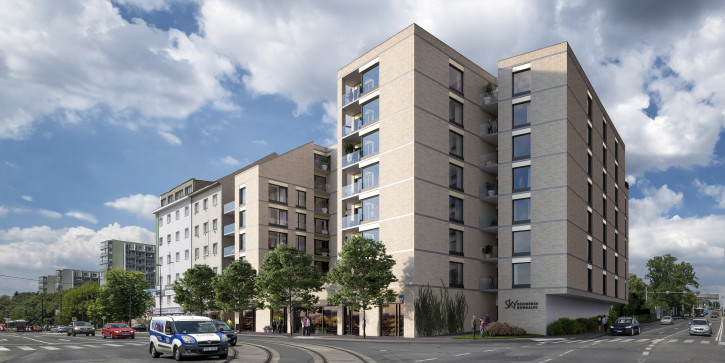 PRIVATE ZONE OF A MICRO-YARD
Most of the views from the neighbouring windows of the residential rooms are directed right here to the private zone. Not only because of its peace but also because it offers enough sunshine to all housing units. The shape of the house is also adjusted to it accordingly. Moreover, an advantage of the apartments in Bohdalecká street is its external soundproofing from the street noise by its access corridors.
Both eight-storey objects are connected through a shared business parterre, where are going to be roof terraces and gardens of the apartments in the second above-ground floor. Green surface of the inner yard will not only improve its micro-climate, but will also create an optical border between the private zone for housing and business or shared areas.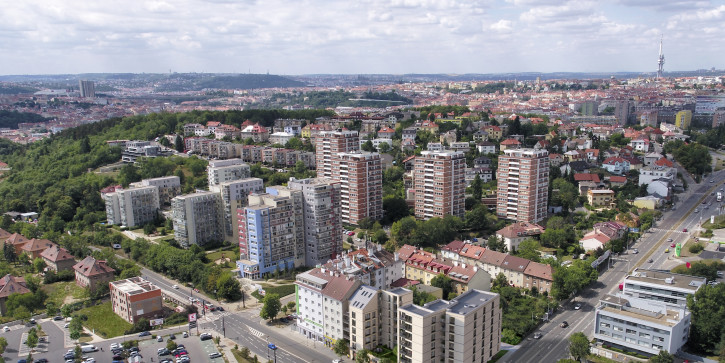 FOR PLEASANT HOUSING
Apart from the parterre with offices, bakery, bistro or a café, both objects are also connected through a shared basement with garage, technical facilities of the house and cellars. Sufficient amount of parking places, which are lacking even here, will be ensured in the area of an adjacent secured yard. Another part of the complex will also include storage rooms for prams, which may also be used as storage space for bicycles.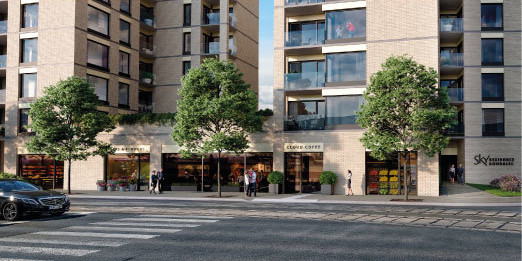 Architects
"We endeavoured to create a simple house of modern design, which would be colourfully modest and primarily functional. It is supposed to evoke atmosphere of solid timeless simple houses from low-maintenance, classic and time-tested materials. A house that will become a natural part of the current street and will match well with the neighbouring houses. A house, where its residents will at home from the very first moment."
Ing. arch. Miroslava Tylšová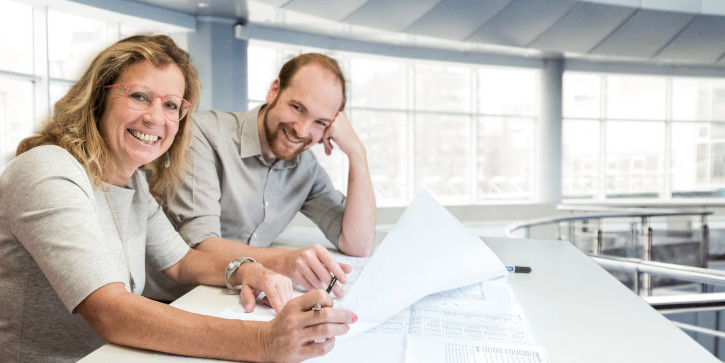 SKY RESIDENCE BARRANDOV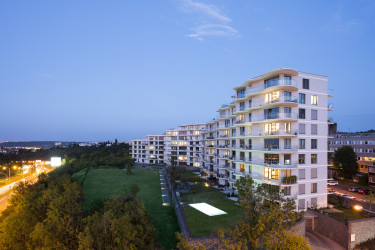 Project SKY residence Barrandov, realised in Prague 5 in Devonská street, offered, in a closed area with a great emphasis on security, in three individual houses in total 133 residential and non-residential units in high standard and quality. Its authors are prof. Ing. arch. Eva Jiřičná, CBE and Ing. arch. Petr Vágner from the studio AI - DESIGN, who designed its timeless facade and instilled lightness and pure elegance to the project.
Residence offers wide range of dispositions from studio apartments (1+kk) with area from 38 m2 to four-bedroom apartments (5+kk) with floor area up to 126 m2. Its top offer was represented by six luxurious penthouses in dispositions up to three-bedroom apartments (4+kk) with roof terraces up to 250 m2. Most of the units offer panoramic views of Prague. The house is built as extraordinary energy-efficient and can boast the energy grade A. The basements of the buildings provide spacious cellars and garage.
Construction completed: 2018
RESIDENCE FILMAŘSKÁ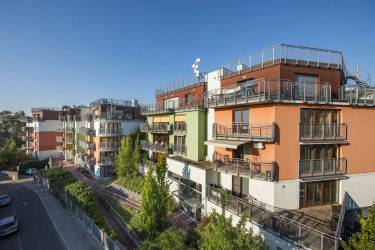 Amazing position, location, comfort and accessibility make Residence Filmařská very lucrative housing right under the Barrandov ateliers. The whole project was outlined to provide above-standard housing for those with high expectations. The location descends to the eastern direction and provides wonderful view of the Prague city centre from almost any side. The project´s author is Professor arch. Jan Fišer.
In these three four-storey houses, there is 40 generously designed apartments. Each apartment is connected to the exterior with at least one terrace or a balcony. Selected apartments in the last floor have access to the roof top with greenery. Apartments in the categories from one-bedroom apartment (2+kk) up to five-bedroom apartments (5+1) with area from 76 m2 up to 180 m2 offer spacious and comfortable dispositions. In the basements of these houses, there are 62 parking places and spacious cellars.
Construction completed: 2004
ROPICE GOLF RESORT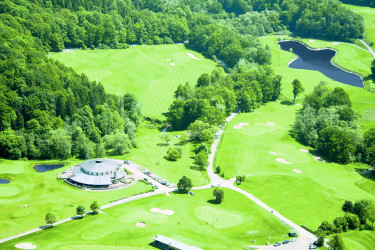 Ropice Golf Resort rightly belongs to the TOP 10 Czech golf courses and is a sought-after course by professionals, demanding and also less experienced players. Location of the course provides stunning panoramic views of the Silesian massif Beskydy with its dominant mountain Javorový vrch. The area was designed and modelled by the top-ranking Austrian architect Hans Georg Erhardt. Other exquisite projects comprise for example Golf Club Wien – Süßenbrunn, Blue Crane Signature Golf Camp; Spa Resort - South Afrika, Royal Palms Golf Course - China etc.
Ropice Golf Resort offers its players amazing experience from the game on a master course of links character. Its diversity lies in its numerous bunkers, characteristic ripple line of fairways, interestingly shaped greens and water barriers. Eighteen holes covers 6263 metres of black tees, PAR 72.
Construction completed: 2003