Sky Residence Bohdalec
MODERN VARIATION OF RESIDENTIAL BUILDING
SKY Residence Bohdalec is a project of modern housing of the SKY HOUSE type with a goal of offering our residents comfortable, above-standard and energy-efficient housing in architectonically interesting and creatively designed houses. The houses contain housing units with smart dispositions, where you truly will feel at home.
SKY Residence Bohdalec offers 58 units in dispositions from studio apartments (1+kk) to two-bedroom apartments (3+kk) ranging from 30,3 m2 to 86,7 m2.
There are also 4 business spaces ranging from 89,2 m2 – 162,6 m2, which are located in the 1st above-ground floor of the residence. They will supplement already excellent business base of the Bohdalec location and will add to the wide range of shopping possibilities.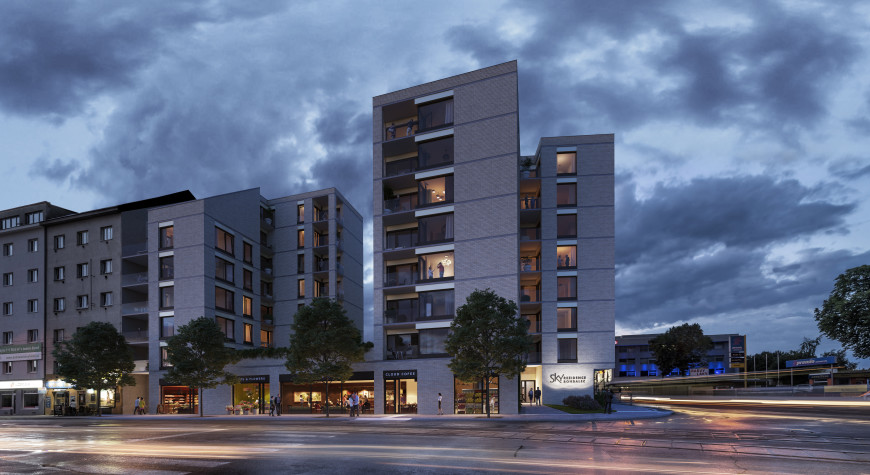 "We have chosen an architectonic solution inspired by the composition of
a typical Prague block of buildings in residential locations
such as Vinohrady or Žižkov."
Ing. arch. Miroslava Tylšová
SKY RESIDENCE BARRANDOV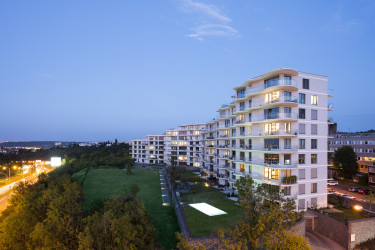 Project SKY residence Barrandov, realised in Prague 5 in Devonská street, offered, in a closed area with a great emphasis on security, in three individual houses in total 133 residential and non-residential units in high standard and quality. Its authors are prof. Ing. arch. Eva Jiřičná, CBE and Ing. arch. Petr Vágner from the studio AI - DESIGN, who designed its timeless facade and instilled lightness and pure elegance to the project.
Residence offers wide range of dispositions from studio apartments (1+kk) with area from 38 m2 to four-bedroom apartments (5+kk) with floor area up to 126 m2. Its top offer was represented by six luxurious penthouses in dispositions up to three-bedroom apartments (4+kk) with roof terraces up to 250 m2. Most of the units offer panoramic views of Prague. The house is built as extraordinary energy-efficient and can boast the energy grade A. The basements of the buildings provide spacious cellars and garage.
Construction completed: 2018
REISDENCE FILMAŘSKÁ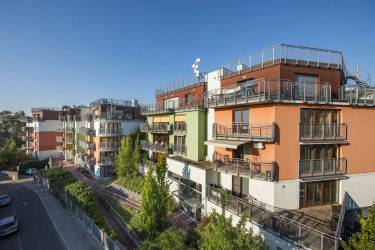 Amazing position, location, comfort and accessibility make Residence Filmařská very lucrative housing right under the Barrandov ateliers. The whole project was outlined to provide above-standard housing for those with high expectations. The location descends to the eastern direction and provides wonderful view of the Prague city centre from almost any side. The project´s author is Professor arch. Jan Fišer.
In these three four-storey houses, there is 40 generously designed apartments. Each apartment is connected to the exterior with at least one terrace or a balcony. Selected apartments in the last floor have access to the roof top with greenery. Apartments in the categories from one-bedroom apartment (2+kk) up to five-bedroom apartments (5+1) with area from 76 m2 up to 180 m2 offer spacious and comfortable dispositions. In the basements of these houses, there are 62 parking places and spacious cellars.
Construction completed: 2004
ROPICE GOLF RESORT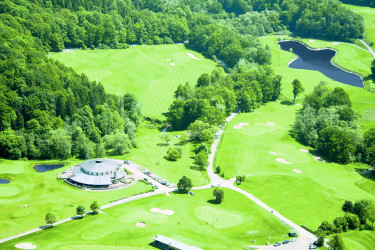 Ropice Golf Resort rightly belongs to the TOP 10 Czech golf courses and is a sought-after course by professionals, demanding and also less experienced players. Location of the course provides stunning panoramic views of the Silesian massif Beskydy with its dominant mountain Javorový vrch. The area was designed and modelled by the top-ranking Austrian architect Hans Georg Erhardt. Other exquisite projects comprise for example Golf Club Wien – Süßenbrunn, Blue Crane Signature Golf Camp; Spa Resort - South Afrika, Royal Palms Golf Course - China etc.
Ropice Golf Resort offers its players amazing experience from the game on a master course of links character. Its diversity lies in its numerous bunkers, characteristic ripple line of fairways, interestingly shaped greens and water barriers. Eighteen holes covers 6263 metres of black tees, PAR 72.
Construction completed: 2003